At the Agriturismo Sole del Mediterraneo guests will have the opportunity to rent free bicycles with which to discover nature and the wonders of Salento!
Apulia, and in particular Otranto, lends itself well to this type of relaxing activity, because in the whole region there are a series of beautiful routes and itineraries immersed in the Mediterranean, perfect for coasting the sea and letting yourself be enchanted by the unique colors of the coast.
Around the city there are in fact small characteristic villages and nature reserves to visit and reach thanks to your two-wheeled vehicle.
From our structure it is easy to reach the protected area of the Alimini Lakes, for an excursion in the name of birdwatching and greenery.
Moreover, Otranto is connected to Santa Maria di Leuca by a 60 km long route, along which you will cross the entire coast of Salento, discovering particular and typical villages, such as La Palascia.
Here you can rest at the small and picturesque ports, where the fishermen actively devote themselves to their activities by transmitting the history and culture that characterize this region.
We recommend that you include in your itinerary a visit to the Aragonese Castle and a stop at the Cathedral of Santa Maria Annunziata, places of inestimable beauty and historical value, within which you can admire incredible works, such as the Floor Mosaic depicting the tree of life.
On board your bike you can then venture along the jagged coast, from which you can enjoy the view of the turquoise sea that merges with the clear sky of Salento, reaching so pedal after pedal the beautiful beaches of the coast, where you can enjoy a relaxing swim.
It is in fact possible to make some detours to visit coves and natural caves, characteristic of this area.
Moreover, during your trip, you will be able to enjoy the enogastronomic tradition of Salento, stopping to taste the typical products of our territory in some typical little restaurant that you will meet along your way.
It will be a unique experience, where the miles of bike will turn into a succession of beautiful landscapes, during which you will meet breathtaking landscapes with unique colors, to be enjoyed in one breath.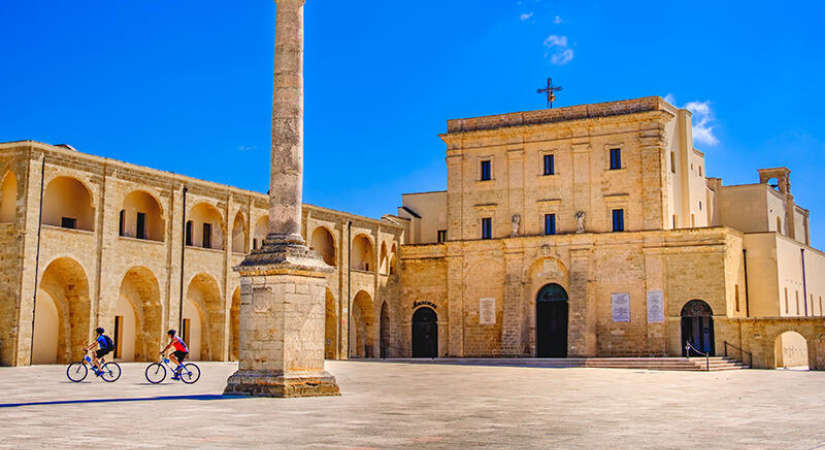 If you can reach Santa Maria di Leuca you will find the spectacular historic cathedral, surrounded by lush greenery that frames the pristine sea that bathes this coast.
A land of many facets and wonderful from all points of view, Otranto can therefore be the starting point of a tourist itinerary by bike that will leave its mark on your holiday!
In addition, in the city there are several agencies that can organize for you guided tours, thus bringing you to discover the most beautiful unspoiled places that this area has to offer.