Immersed in the green of the uncontaminated nature of Salento, stands the Agriturismo Sole del Mediterraneo, located in one of the most fascinating villages in Italy: the beautiful Otranto.
A romantic Bed&Breakfast, which loves to pamper its customers giving them a pleasant stay in a family atmosphere and at the same time professional, cheering their holiday with the many services offered by the structure, including a rich breakfast to be enjoyed on the veranda or in the pine forest, prepared with fresh fruit and many other high quality products chosen with care, which go well with the pastries and sandwiches that arrive every day still warm because freshly baked.
The immense greenery, cared for in every detail by the owners Vittorio and Antonella, frames an elegant structure, composed of rooms with views and beautiful wide spaces where you can relax.
You will be welcomed by a courteous and helpful staff, who can ask good advice on what to visit, and let you indicate where to taste the true flavors of Salento.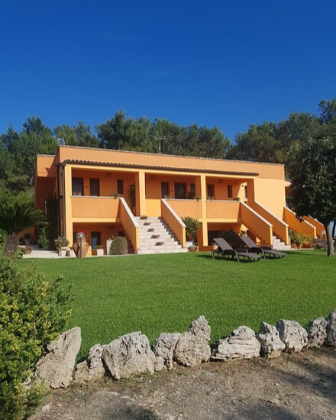 An oasis where you can live an experience of pure well-being, to fully enjoy
the wonders that Salento has to offer.
Hospitality and wellness in a corner of paradise!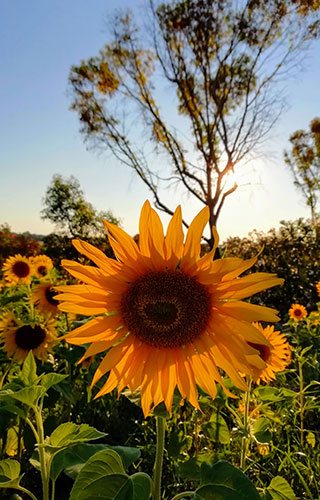 An Enchanting Place
Elegant and comfortable rooms with a view, from which you can see the beautiful lakes of Alimini and the breathtaking sunsets that break on the coast.

Strategic Position
Reach in a few minutes Otranto and the tourist areas of greatest interest by car or bike, and visit wonders such as Torre dell'Orso and Baia dei Turchi.
Green Open Space
Relax in the shade of the pine forest lying on one of our hammocks, while letting yourself be lulled by the sea breeze to the sound of the sweet chirping of cicadas.

Sun in the Heart
Kindness and friendliness are our strengths, and we constantly strive to transmit to our customers the warmth of this wonderful land.
You always go back to where you were good
When it's attention to detail that makes all the difference.
The Agriturismo Sole del Mediterraneo has been known for years as a real reference point in Salento, not only for its magnificent location, but especially for the love it manages to convey to its customers through the small attention dedicated to them.
- 5 Stars on TripAdvisor.
Certificate of Excellence
We are in first place in the ranking of Bed&Breakfast facilities in Otranto.
We offer our customers free parking, breakfast in the room and many other services.